This is one of my life experiences to tell to everyone, if I've done it, you should do too.
Hiking the Inca Trail is an experience which should inspire excitement, invoke a little bit of fear, stoke jealousy amongst your friends, and stir a sense of wander in your soul.
One of the most popular things to do in South America – and one of the world's most famous hikes – the Inca Trail is the sort of singular adventures for which we all travel. The hike itself, which brings you along ancient narrow paths deep into the Peruvian countryside and high into the Andean mountains, is gorgeous; perfect Incan ruins, cloud forest, and majestic valley views laid out like breadcrumbs along the way to perhaps the greatest end-point of any multi-day hike on earth, the iconic Machu Picchu.
WHAT EXACTLY IS THE INCA TRAIL?
The Inca Trail is a well-established and iconic 4-day, 3-night hike which leads travellers from km.82 (the start point 40 minutes outside the town of Ollantaytambo) all the way to Machu Picchu via its exclusive Sun Gate (also called Inti Punku).
The good news is that it's a lot shorter than you may expect at only 40 kms (25 miles). The bad news? A significant chunk of that 40 kms is up steep, narrow Andean mountain paths at altitude.
The Incan Empire (which at its largest joined Peru, large parts of modern Ecuador, western and south-central Bolivia, northwest Argentina, north and central Chile and a small part of southwest Colombia) created thousands of kilometres of trails to link its important settlements and centres of civilisation, but it is this specific 4-day route which is known as the one and only 'classic Inca Trail'.
Do note that if you see a tour with fewer days offered, then you are only going to be hiking a small section of the route.
What you need to know before you leave?
Book with a Travel Company: The Peruvian government requires that a professional guide accompanies all hikers. Only 500 people are allowed on the Inca Trail per day, so make sure you organize your permit and private guide or book a tour in advance.
Physical Prep: The Inca Trail is no joke and even those who are reasonably fit may find themselves short of breath on the trek. I highly recommend, at the very least, hiking before your trip with the gear you'll carry on the Inca Trail. It's a great way to make sure you only pack what you can handle. If you want to get in better shape before the trek, cardio is a great way to increase your endurance, and weight training will strengthen your upper body and legs.
Mental Prep: Preparing your mind is just as important as preparing your body. There are parts of the hike that will feel easy and others that will have you questioning your ability to finish the trail. You need to push through those hard moments and keep your motivation in mind to help you reach your final destination
WHAT DO YOU NEED TO PACK FOR THE INCA TRAIL?
Pack light, pack smart, and pack for two very different temperatures – that's the key advice for every Inca Trail experience. However, there are a few key things to know about how luggage and kit is transported on the hike before you even think about whether you really need that extra pair of pants.
Firstly, you are going to leave the bulk of your luggage securely in a luggage storage room back at the hotel in Cusco; don't leave valuables here though as that's just silly.
Secondly, for our tour with Vidal Expedition, we were each supplied with black duffel bags at the VE office. This duffel bag is allowed to hold up to 7kgs, and is going to be where the majority of the kit + equipment you bring for the Inca Trail will be stored (i.e. clothes, sleeping bag, sleeping mat, toiletries). Every Inca Trail tour worth its salt employs and includes an incredible team of support staff who will carry the camping and cooking equipment plus food supplies on the Trail to each campsite (the tour company provides all of this equipment), as well as everyone's 7kg duffel bag.
Local Porters
These local porters, from fresh-faced 18-year-olds to gnarled mountain men, are the unsung heroes of every Inca Trail experience and they will each carry up to 25 kgs on their backs for the group (yep, and you were worried about how hard the Trail would be for you!). Your duffel bag will be collected and weighed each morning to ensure it's not over the weight limit, and will be waiting for you alongside an erected tent at each campsite.
So, it's clear that most of the hard work when it comes to carrying things will be done by others and Vidal Expedition provides a lot of the key camping equipment. However, you also need to have a small daypack to carry your snacks, camera, water, suncream, and any medication, on the Trail itself – this will be carried by you and only you throughout the trip.
Hiking on the Day 1, Preparing for the hike of the lifetime
5:00 am wakeup call and all ready for our first day on the Inca Trail! After breakfast in Ollantaytambo, our Guide, Jose Antonio, picked us up by bus and heading to kilometer 82 of the Inca Trail.
On the bus, we met Juana and Pepe, our Cook team, and the rest of our group who we would be spending the next four days with. I had butterflies the entire drive there.
I didn't really know what I was getting myself into. All I had heard about the Inca Trail was that it was going to be physically challenging and one of the most incredible experiences of my life.
We strapped on our packs, grabbed our walking sticks, crossed over the river, and began the trek. Our first stop was at the halfway point, Kanabamba.
Jose Antonio showed us these local bugs that live in the cactus, or "tuna" in the native language Quechua. When you squish them, their "blood" produces a reddish pigment that is used for coloring fabrics and makeup.
Mount Veronika was visible along the trail. It's the only snow-capped mountain among the Andes we could see.
We walked 10 kilometers in total and felt pretty good once we reached camp. The view from our tent looked down onto the valley below with Mount Veronica in the distance.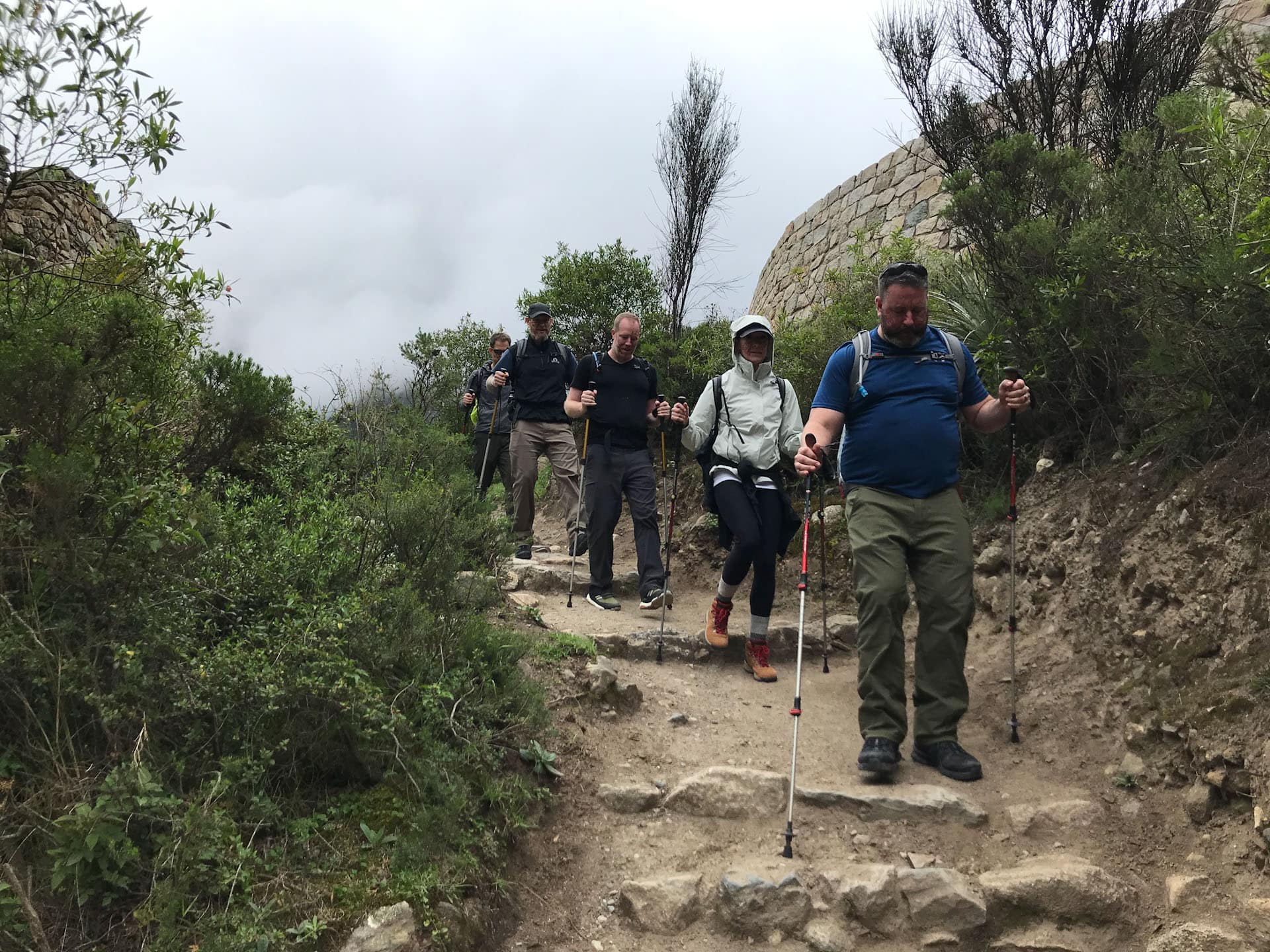 The Day 2, The Challenges day
We woke up at 5:00 am and greeted with coca tea in our tent. Coca tea is made from coca leaves which are used for all kinds of things in Peru.
Yes, they are from the same plant used to make cocaine. No, chewing or brewing the leaves does not get you high.
Coca leaves, in their natural state, are a traditional part of everyday life for Peruvians.
I couldn't sleep at all the first night of the trek, so I woke up feeling completely useless and unprepared for the most challenging day of the four-day trek. For the length of the trek.
Ready to be as "Porter" is a term used for Peruvian men (usually believed to be the descendants of the Incans for their endurance!) that are available for hire to carry additional cargo if you need help along the trail. These men are incredible!
They would literally run past us up the mountain (while we struggled to catch our breath) carrying 20 kilos of gear. Most of them were wearing sandals! (I highly recommend hiring a Porter if you are nervous about carrying heavy weight during the trek. It's difficult without any cargo)!
Sage advice?
Pack as light as possible. If you can help it, only carry a hydration pack with water and a light jacket that you can tie around your waist if you warm up. The porters will speed off ahead of your group, so once you start the day, you won't see them again until you reach camp!
Eventually, we made it past what is known as "Dead Woman's Pass" to the peak at 13,776 feet above sea level. No wonder they call it Dead Woman!
While it was quite the achievement, we then had another two-hour hike down the mountain in freezing cold conditions. By the time we reached camp, my body was aching and all I wanted to do was pass out in our tent.
Experience on the  Day 3, The longest Day
The wake up time was  at 5:00 am again. And again, I didn't get a wink of sleep. Today was our longest trek, in total 10 miles, up and down the Andean mountains.
this was such a beautiful day… bright and sunny! So, we took our sweet time taking in the beautiful surroundings.
We saw hundreds of lupines and orchids as we hiked through endless jungles and archaeological sites. It took almost 12 hours to finally reach our campsite after stopping at different sites and taking multiple breaks.
We ended our day just as Machu Picchu mountain appeared through the distant haze. We are just one sleep away from finally reaching Machu Picchu!
Day three down, one more to go.
The anticipation is killing me but, not going to lie. But I'm also getting excited about a warm bed and hot shower!
Finally on the  Day 4, Machu Picchu
It was a 6 km hike to Machu Picchu and we left in the pouring rain and in the pitch black of the early morning. It took a couple of hours to reach Puerta del Sol, or Sun Gate, the first place you can see Machu Picchu from on the trail.
The view of Machu Picchu from above was insane! The previous three days of trekking leading up to the moment when it emerged from the clouds was indescribable.
I completed the Inca Trail!!!
We have completed it!
This trek was one of the most physically challenging experiences in my life that made me face some of my own personal challenges as well. I spent a lot of time reflecting on my accomplishments, goals, successes, as well as challenges from this year and feel like I have a new clear conscience to take with me from this experience.
We hiked another hour downhill until we reached the site of Machu Picchu. It was raining but it actually added to the feeling we had when we arrived.Unbelievable, indescribable… that doesn't even begin to sum it up.
Machu Picchu
We spent a few hours at the Machu Picchu taking pictures, hugging llamas and playing hide and seek around the ruins. The best part of hiking down from Puerta del Sol at sunrise is that you get to be some of the first people at the site.
We had lunch in Aguas Calientes, the town just down the way from Machu Picchu, then took the train for a 3.5-hour journey back to Urubamba. From there, we took the bus to Cusco. Needless to say, it was a looooong day! Our guide and group all planned to go out in Cusco to celebrate, so we powered through the exhaustion and went out for a drink at a place in Cusco called Lek.
Written by: Amanda White California,USA