Rock Climbing Experience in Cusco
I spent three months doing some volunteer program in Cusco, and during my days off wondering what to do, I did some biking, hiking and some other activities around Cusco, after a few weeks searching at the internet I found Vidal Expeditions a local travel company who do many outdoor activities such as trekking and climbing.
Go for Climbing
I contacted them to see if they have any outdoor activities which I didn't do the time I was in Cusco, Vidal the owner was the person who provide me some details about the Rock Climbing in Cusco, I didn't know there was that activity around here, so asked him so many questions about it, however I did not have any experience climbing and even worse with this type of extreme sports, so I tried to explain there this will be my first time with this and Vidal the owner gave a options to do a Rock climbing lesson with one of their instructor which for me was good, and I thought the is the good was to begin with this activity, after many questions finally I decided to go with them for rock climbing activity.
Learn more about Rock Climbing
They come to pick me up to my Airbnb place which I was staying and we drove for 30 minutes outside of city the instructor was Urbano (Aka) Chino who was between 30-32 years old, he introduced himself very well and was happy to go for climbing, once when we arrive to the rock climbing spot, before to start with the activity he started to explain to me about the history of the rock climbing and why nowadays this activity is turning popular in Cusco, after changing our opinions we start with this activity.
Rock climbing lesson comes first.
Urbano provided me the introduction about the rock climbing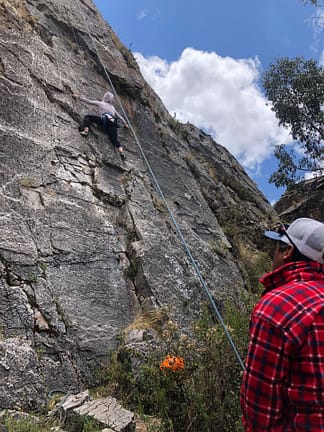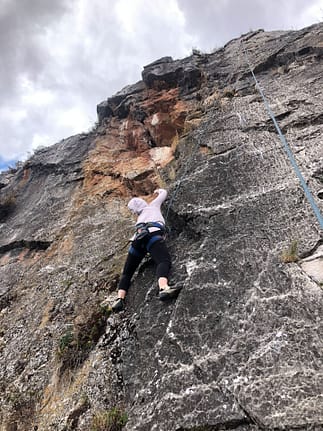 YOUR INTRODUCTORY LESSON
I recommend the people make their first lesson with them, their two hours introductory lesson. You'll learn the basics of outdoor climbing. Chino says "We expect people to come to us with no experience under their belts, so don't worry if you haven't done this before! Our qualified instructors will talk you through your climb step by step". They're prepared to help you push through any fears you might have and take you to new heights.
You also have the option of a private lesson. If you'd feel more comfortable with one-on-one instruction, reach out to us to schedule something!
What to expect from your rock-climbing lesson?
If you're starting rock climbing lessons for the first time, congratulations! You're setting out on an exciting and rewarding new journey, and you're sure to have fun as you conquer new heights. Before long, you'll be approaching new climbs with excitement and confidence.
But on your first day, it's normal to be nervous. Rock climbing is a sport like no other, and it can be daunting for beginners. But don't let that stop you from signing up for a class! Here, we'll lay out what you can First things first: Know that you're not going to get harnessed up and start up the wall right away.
We want you to experience success when you actually start climbing, and to help that happen, we're first going to give you some techniques you can practice on the ground.
About the climbing spot
At Vidal Expeditions climbing spot, you'll learn about balance, carefully distributing and shifting your weight, and making moves deliberately. This knowledge will help you when you're up on the wall.
Of course, you'll also be learning about all the equipment we use in the rock. Familiarizing yourself with the equipment of the sport is an important part of safe climbing, and safety is the most important thing we do expect when you first begin rock climbing lessons.
As a beginner, it's hard to know how where you should go for climb and improve your technique, strength, and overall endurance without harming your body. You may only have enough places or climbing gyms where you could go to practice little for a day or two a week and you're wondering if that's enough to improve. When I started climbing, I thought the same. I didn't know where to go for climb, when and how, or even how much climbing was too much for me as beginner. Some muscles become so sore the next day after climbing that you don't use on a day-to-day basis, and you don't want to injure them by over extending their capabilities because they aren't ready to be pushed. This is understandable, and you've done the right thing by coming to this article for more information.
What is outdoor rock climbing?
Outdoor rock climbing is how the sport originated and has the added benefit over indoor climbing of enabling you to be able to do it, but from stunning perspectives. You can go much higher than indoors which often allows you to do 'multi-pitch» climbs. Multi-pitch climbs are those where you have stops between ascents with belays at each stop. Each stop near a belay is called a pitch.
Outdoor rock climbing is a great way to see stunning locations and what better way than explore some of the best places to visit in the Cusco.
How to get started with Rock climbing?
There's a multitude of different styles of rock climbing to choose from. With indoor, outdoor, bouldering and top roping, it's sometimes hard to know which one to try when starting out as they all have different perks – obviously the best thing to do is try them all at some point!
For example, the advantage of indoor climbing is its year-round accessibility. You can still go climbing no matter what the temperamental Cusco weather decides to do and is a great way to get into the sport before practicing skills outdoors.
Written by: Anna Ye Los Angeles, USA